WordPress VIP Hosting
30/01/23
Did you know…
…that 40% of the web is built on WordPress and that 64% of the global CMS market is WordPress?
These are not the only reasons we became a WordPress VIP Silver Partner Agency. There are a lot more so we thought it worthwhile to write a blog post about WordPress VIP – the managed WordPress hosting service offered by Automattic (the company behind WordPress).
WordPress VIP, or WVIP as we like to call it, is built with enterprise and high-volume traffic websites in mind. It is one of the fastest, most secure managed hosting providers there is and it is perfect for the clients and sites we have at Ebow The Digital Agency.
Have a good read below and if you have any questions about working with a WordPress VIP partner agency, contact us at wvip@ebow.ie.

From wordpress.com to WordPress VIP: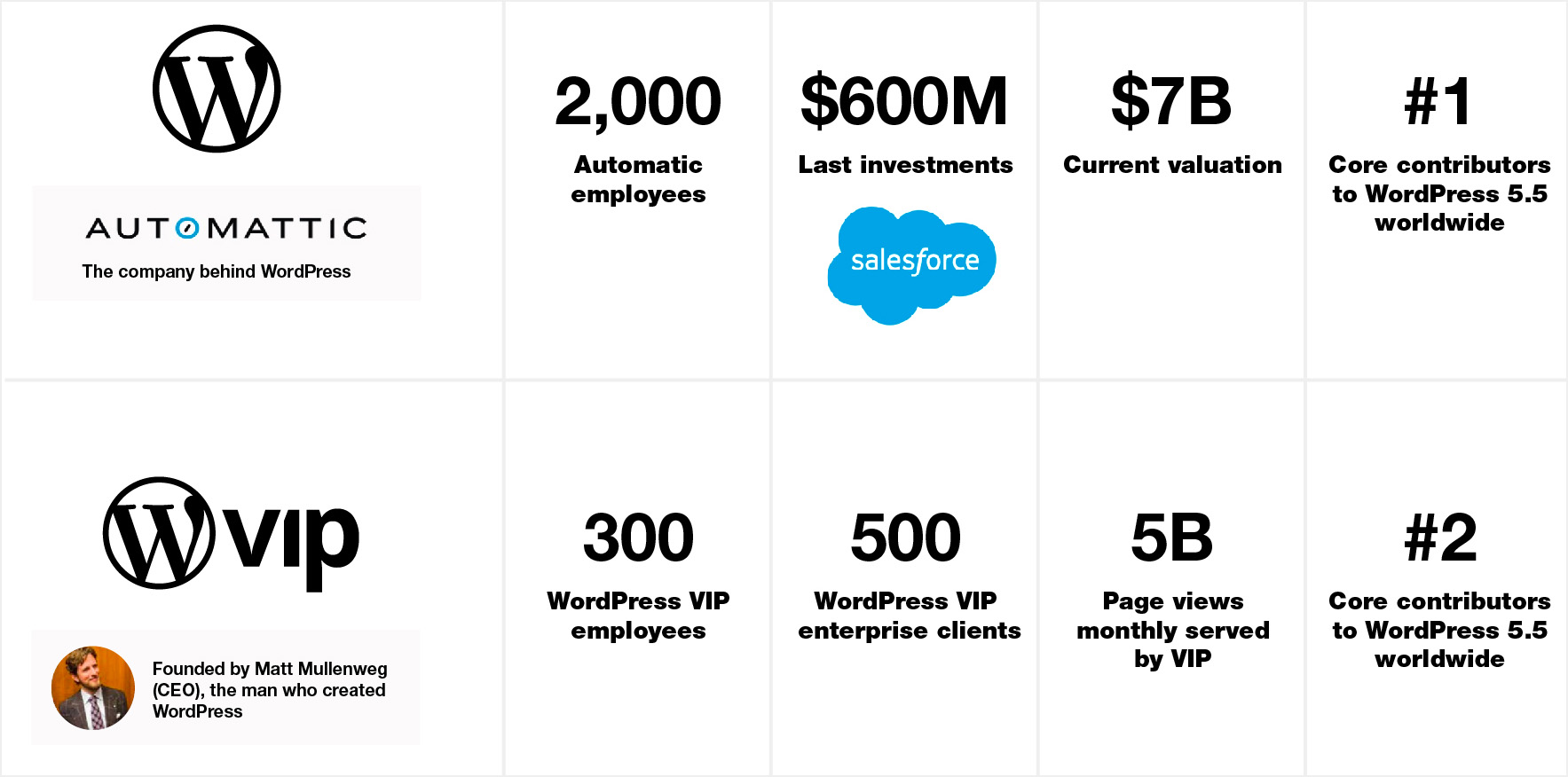 What is the WordPress VIP platform?
The WPVIP infrastructure is optimised for large organisations who produce high volumes of content and want the highest security without compromising site features and adding layers of time.
Some advantages include:
Best-in-class security protocols protect your applications and minimize risk
Options for single site, multisite, and decoupled architectures provide flexibility
Proprietary content delivery network (CDN) ensures lightning-fast performance
Platform scales automatically to respond to high traffic events
Developer tools grant visibility and control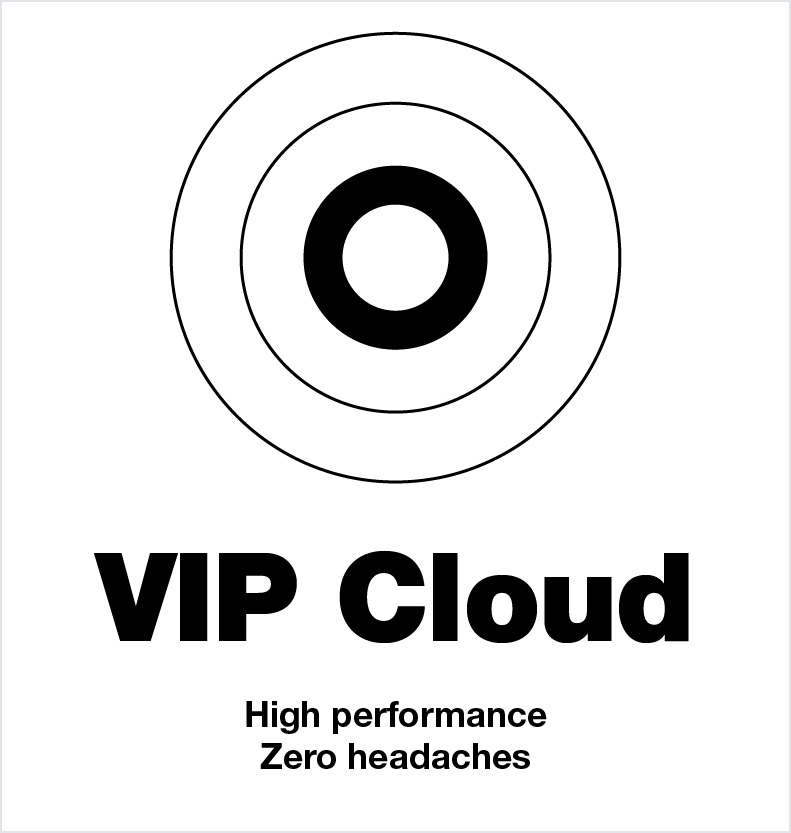 What are the advantages of WordPress VIP?
VIP's global network – delivered worldwide with its own CDN
This powerful hosting platform optimises the delivery of each experience. Traffic is fully encrypted across our network, they've built in defence against DDoS attacks, and WVIP provides an industry-leading time to first byte.
➔ 30 data centres worldwide
➔ Proud to serve 5 billion pageviews / month on the VIP cloud hosting platform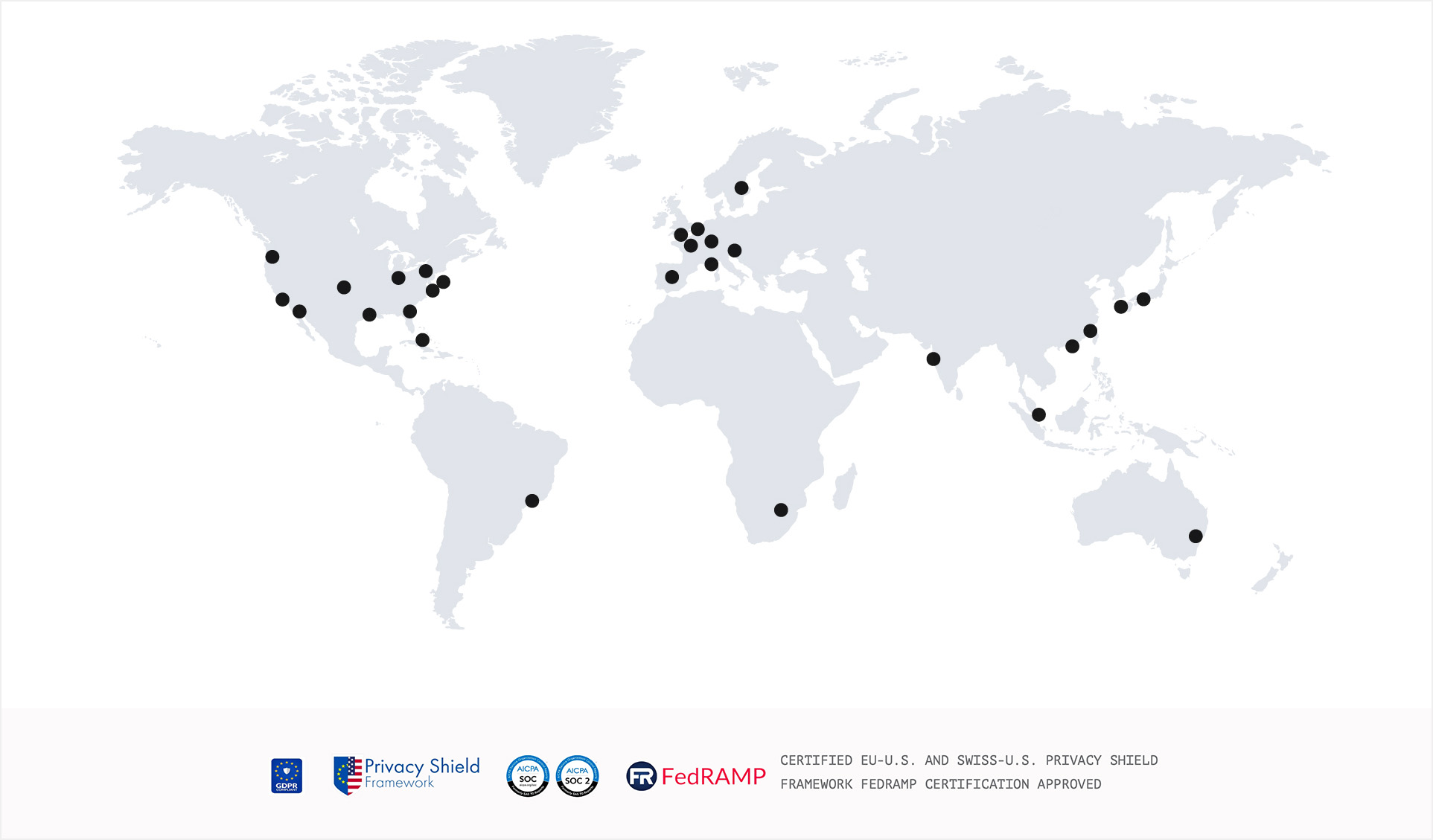 How much is WordPress VIP?
WVIP works out as mechanically cheaper – The total cost of ownership is reduced by an all inclusive Opex pricing model.
Be warned! When it comes to hosting costs, cheap hosting is like building a house on poor foundations and will only lead to problems.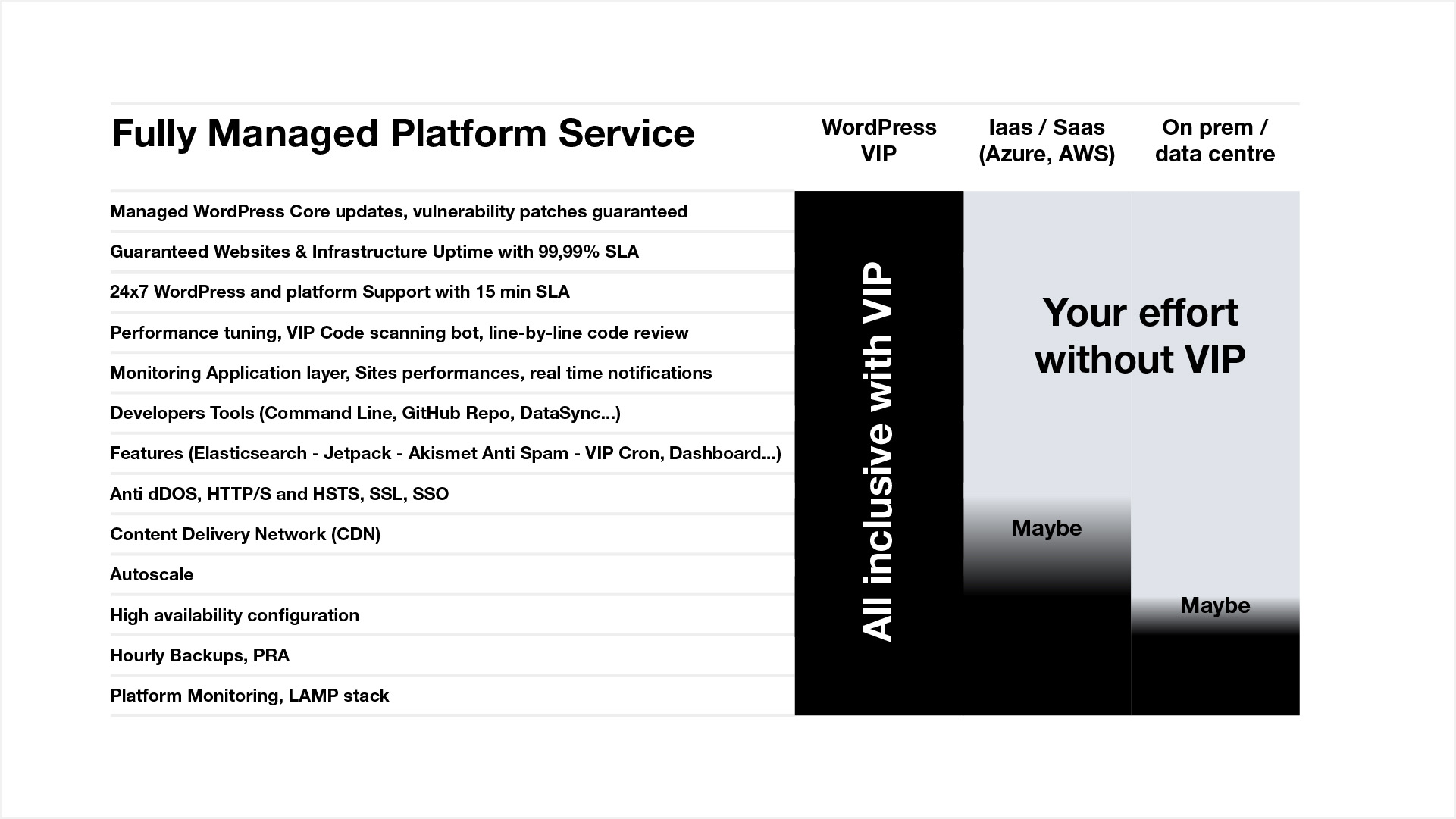 WordPress VIP has Traffic Scalability Management at no additional cost
Are WordPress CMS and WordPress VIP secure?
WordPress VIP has security at its core – it is always on, and always protected:
There is a silly myth out there based on open source code as being insecure and a lot of times this leads to a companyb making a decision about who to do their website on the CMS rather then then best agency to interpret their brand and give them the best site they can get for their B2B or B2C goals.
WordPress VIP proudly has its roots in open source, as does the work we do at Ebow The Digital Agency. It's one of our, and the platform's strengths and it allows your work with us to excel.
Yes, open source operates in the open, it is free and available to a worldwide network of developers. It's thanks to all these developers and their innovations that there is a continual flow, of updates, improvements, and patches to core WordPress code, as-well as incredible innovation in plugins and other "cool stuff".
If a security vulnerability or bug is found, then fixes happen immediately, rather then being overlooked or over-brained which is often the case with closed source or proprietary software.
Along with persistent code testing by WordPress core contributors, "bug bounty" programs motivate the global WordPress community to police for security vulnerabilities, e.g., brute force attacks, DDoS, phishing.
This "more eyes on the core code" inspires trust and confidence in open source software and less FUD (fear, uncertainty, and doubt), and shelving of great ideas due to development costs or security paranoia or a clunky licensed CMS.
The truth of it is that nothing on the web, life or anything else is 100% secure without active management. This is why we see the world's largest sites get hacked along with countries, banks, telcos, gaming platforms etc.
A bit like your house, if you don't take active measures to keep it secure, you run the risk of being robbed.
This is why WordPress VIP's automated core updates, code scanning etc make it one of the most secure options on the market.

What are the Key Features of WordPress VIP?
Data encryption in transit from edge to origin encryption at rest
Network and host based firewalls
Real time notification processes SAML-based SSO
HTTP/S and HSTS Managed Infrastructure
SSL
DDOS Protection
Origin data centers with SSAE 18 SOC 1, SSAE SOC 2 certifications
Managed WordPress Core updates
Vulnerability patches guaranteed
Always running the latest version of WordPress
WordPress application security best practices across user login and management
Code quality, and proactive monitoring
Performance tuning
VIP Code scanning bot
Full manual code review
Owned and operated, globally distributed CDN
Logging and Auditing at the application, web server, load balancing, database, and operating system layers
Site Activity log for user login and content management actions
WordPress VIP team support and access to WordPress developers
WordPress plugins review process
Who should use WordPress VIP?
Four beautiful reasons to choose the WPVIP platform with Ebow The Digital Agency: