Ebow and the Museum of Literature Ireland sponsorship to develop Digital@MoLI
24/02/22
Digital at the Museum of Literature Ireland has been a strategic priority for the museum since before they opened the doors, with RadioMoLI launching in February 2019 and the museum playing a major role in the collection of Irish Literary digital material.
With the recent launch of The Ulysses100 digital platform, celebrating the Centenary of Ulysses – which launched on February 2nd, the time is right for Simon O'Connor, Director of the Museum of Literature Ireland and David Douglas, Director of Ebow, The Digital Agency to announce a partnership between the two organisations, which is an investment by Ebow in the ongoing development of the digitisation of the museum, an alignment of professionals who understand the value and potential of the digital space and who share a belief in the importance of digital engagement for culture, education, literature and so much more.
'The collection of Irish Literary digital material is a small part of this story. Engaging the public and a far-reaching audience, immersing them in the history, the now and the future of Irish Literature through our calendar of exhibitions using a range of digital platforms, lies at the core of digital@MoLI' Simon O'Connor, Director of the Museum of Literature Ireland reaffirms.
When asked, 'Why MoLI?' David quickly agreed it was a love of literature in all its forms. 'Over the last two years, I have, as I always do, taken stock of the digital marketing industry, and was quite alarmed by the lack of quality content, the lack of trust in what content people were consuming and the momentous task of getting people to trust quality, information that is approved by experts, written by professional or created by geniuses. When I asked myself "What do I trust?" I realised the answer was that I trust reputable authors, artists and their outputs.
If we forget about literature, if we forget about its reliability, the work that goes into it and the differences it makes, has made, and should continue to make then where do we go?
To confirm our agency's commitment to quality, authoritative and trustworthy content we felt sponsoring the Museum of Literature in Ireland would reinforce our agency's love of such. Also, the fact that we are an agency full of creatives, strategists & thinkers meant that we had much more in common with MoLI than just literature'.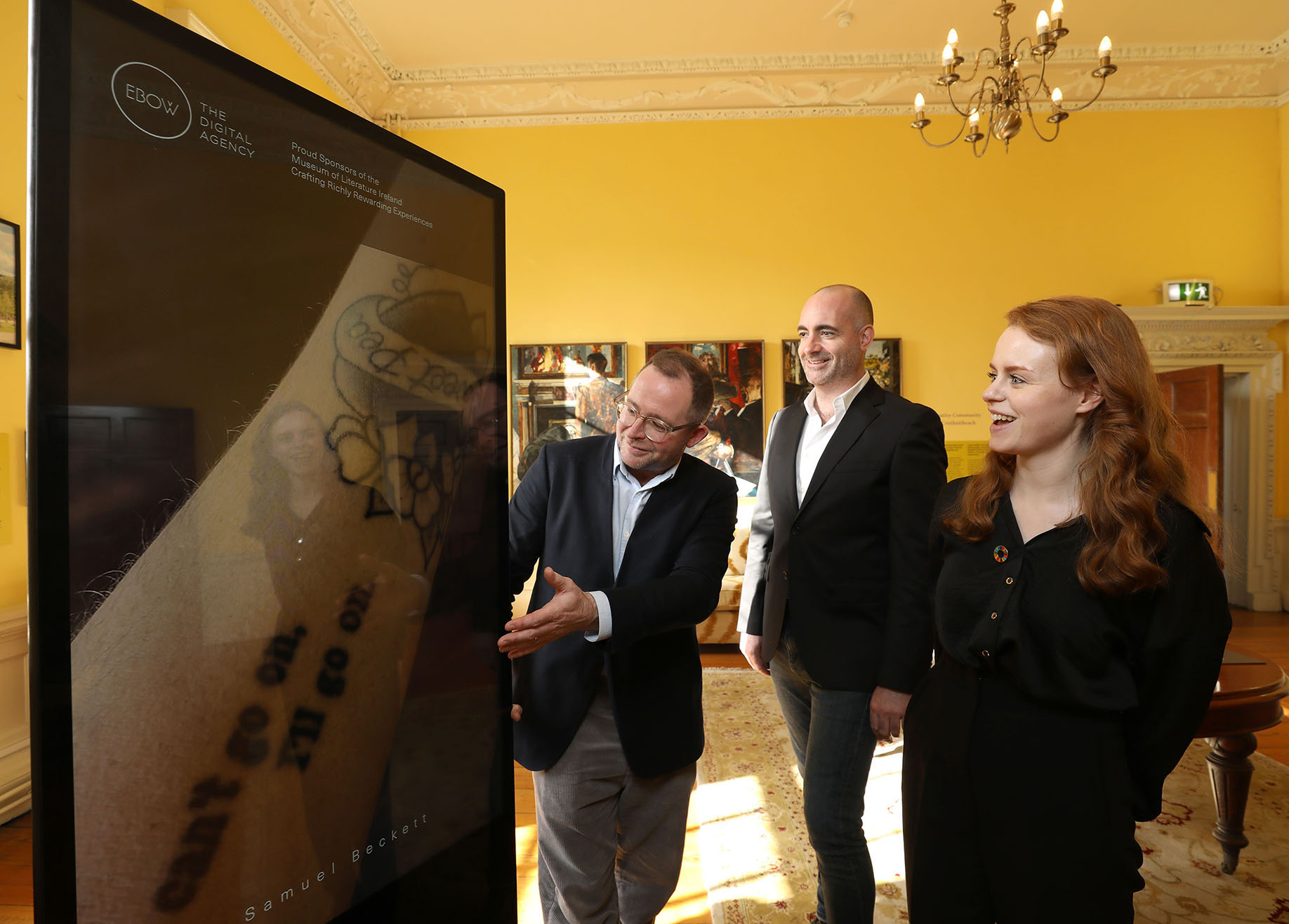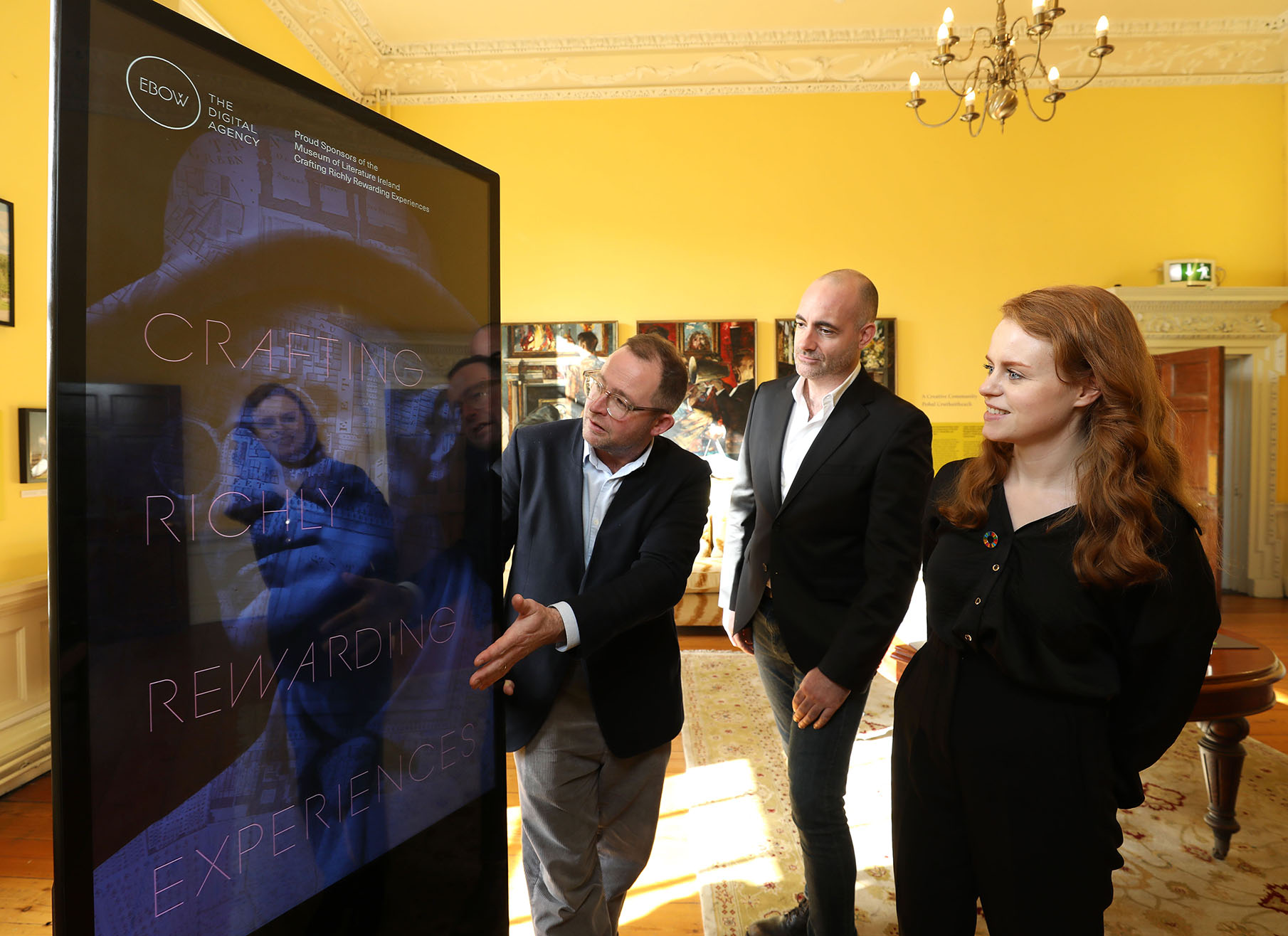 Pictured above are David Douglas, MD of Ebow The Digital Agency with Simon O'Connor, Director of MoLI and Zoe Brady, Fundraising and Finance Officer at MoLI pictured above looking at our visuals for the museums display screens.
Some nice notes and insights on the screens:
Video Screen 1: The obvious! Joyce as it is the Centenary of Ulysses.
Video Screen 2: Iris Murdoch, chosen as Dame Iris Murdoch was a second cousin (or thereabouts!) of our MD David Douglas. Iris was played by Kate Winslet and Dame Judi Dench in the Oscar nominated 2001 film, Iris. The picture used is from the Bill Evans and Jim Hall album 'Undercurrent'.
Video Screen 3: Samuel Beckett, chosen as this quote is tattoo'd on the arm of one of David's first cousins, the director, Molly McGlynn (The Wonder Years, Grace and Frankie).
Video Screen 4: Pat Ingoldsby, this quote was chosen by Aiden Grennelle as it is one of his favourite quotes, MoLI is situated on Stephen's Green and there is an upcoming exhibition on Pat Ingoldsby.
You can see the screens in situ when you visit the museum.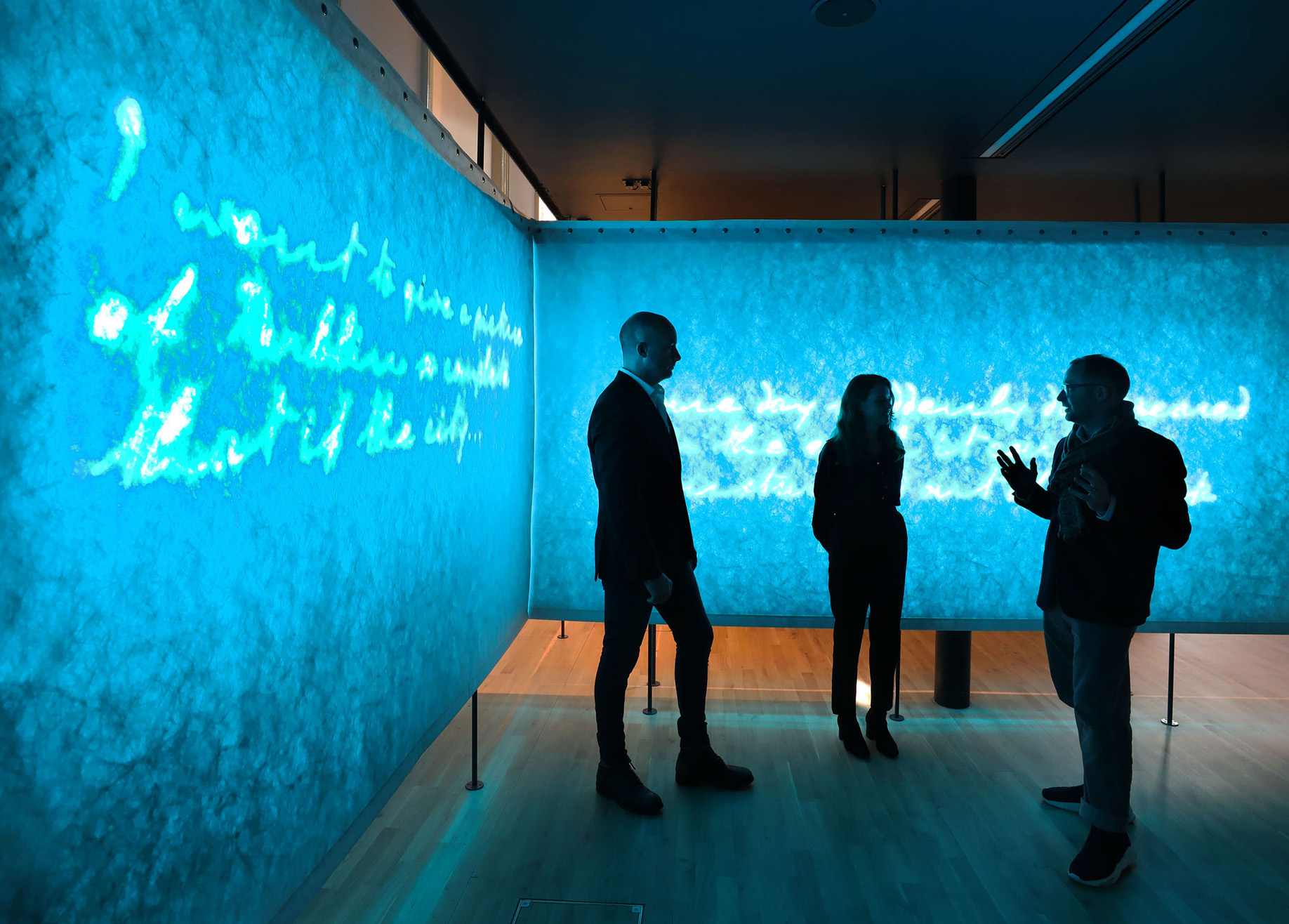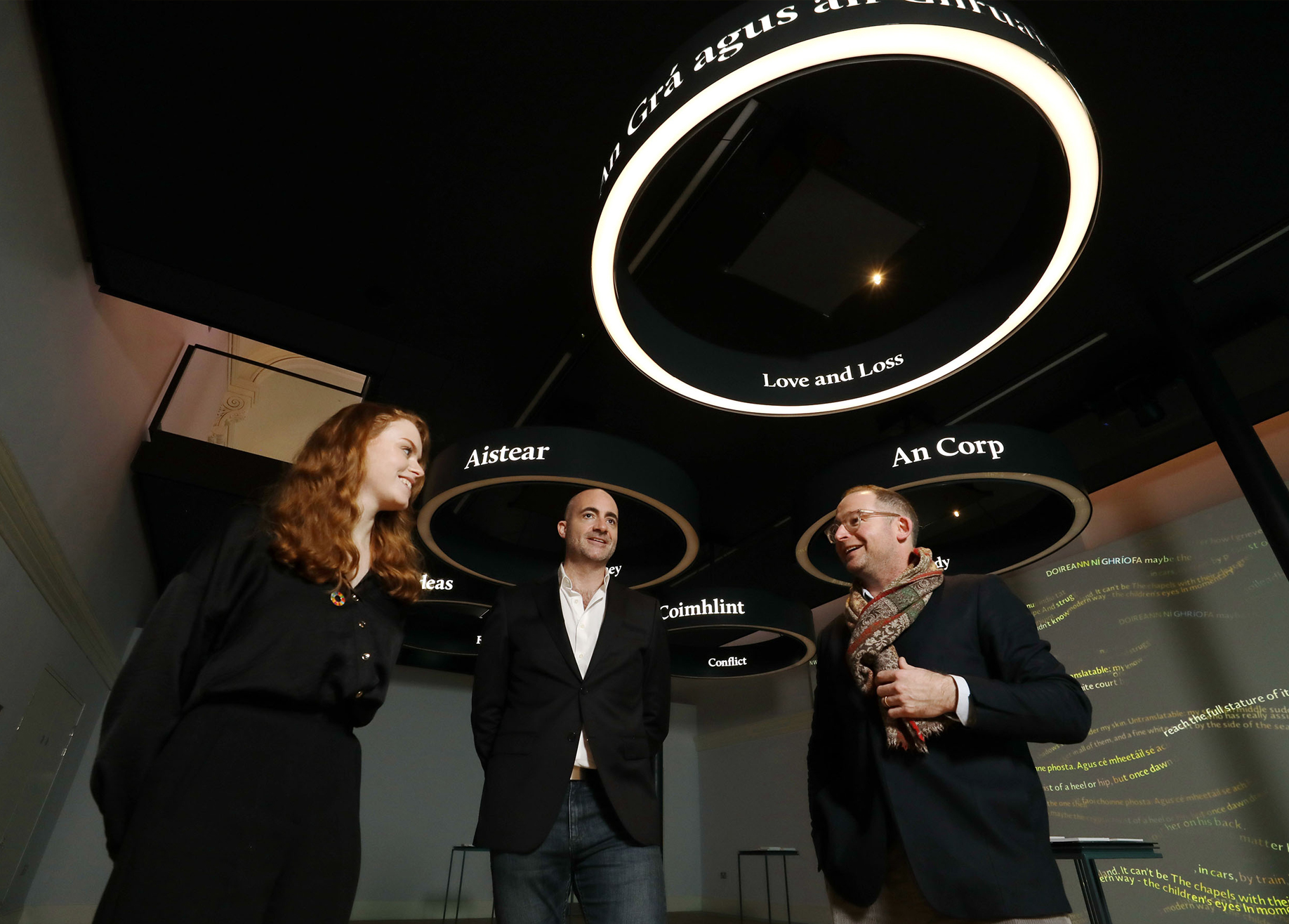 About The Museum of Literature Ireland (MoLI)
MoLI is a partnership between University College Dublin and the National Library of Ireland, a creative alliance between two unique assets – the NLI's Joyce collections and UCD's most significant historic property, Newman House on St Stephens Green in Dublin 2.
Home to a rich and varied history of Irish storytelling across the centuries, trace the footsteps of James Joyce's Dublin, and encounter rare gems from the National Library of Ireland, including 'Copy No. 1' of Ulysses. Changing exhibitions include a look at the connections between Irish literature and international cities, starting with Paris, and a contemporary commissions gallery featuring a new film work by Alan Gilsenan.
About Ebow The Digital Agency:
Ebow The Digital Agency is a multi-disciplinary team of award-winning strategists, technologists and creatives, who specialise in shaping and enhancing brand reputation across all digital and traditional touch-points.
Since 1999 we have worked in most business sectors with some of Ireland's most iconic brands.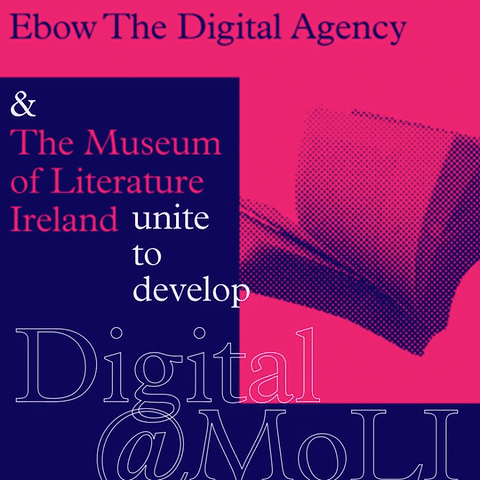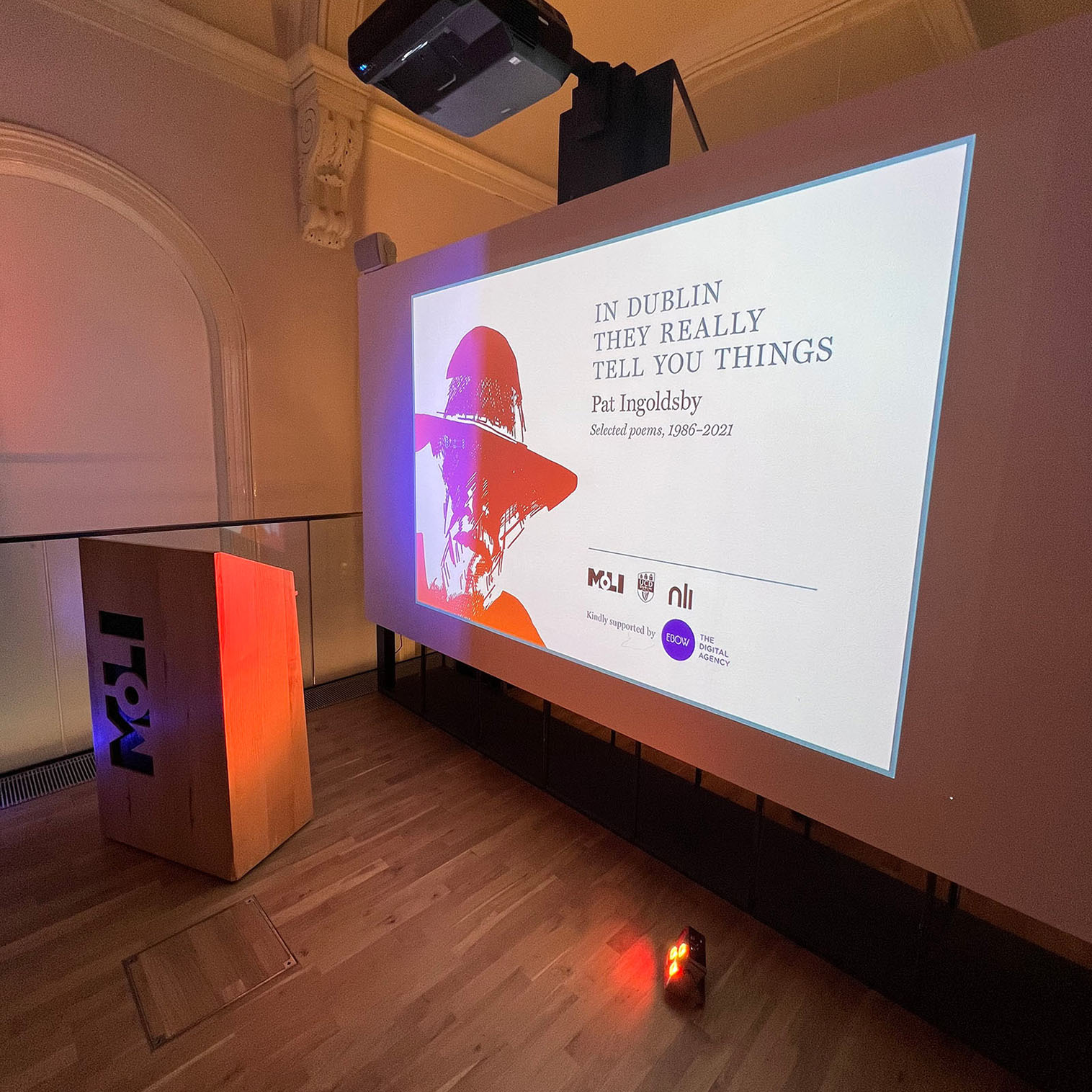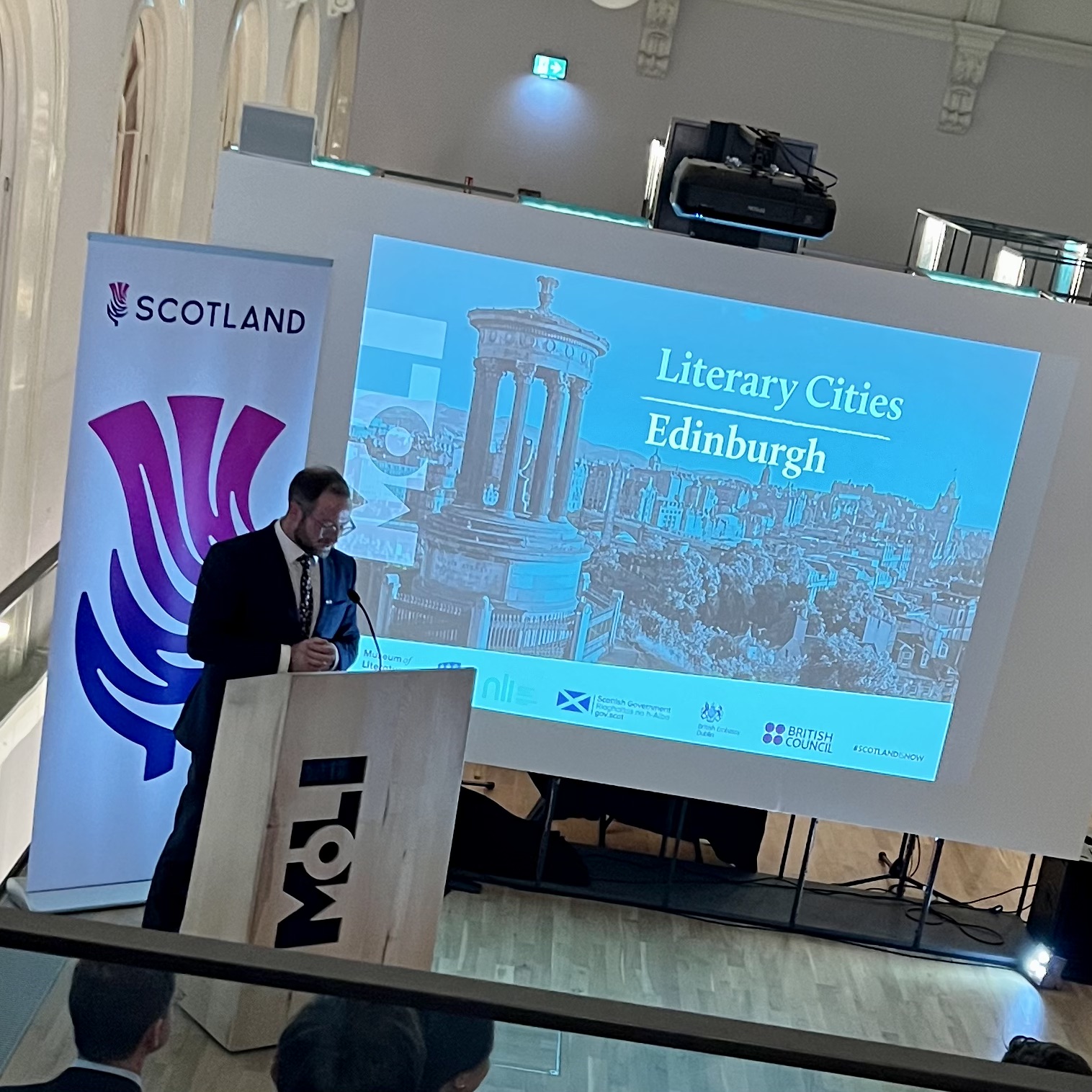 Happy Bloomsday one and all…to mark Joyce's centenary year, and our sponsorship of MoLI, we have created this immersive 'celebration' website at https://moli.ebow.ie …it looks its best on desktop (they always do eh?)
We hope you like it and thanks again to the Ebow team, and to Simon O'Connor and Zoe Brady for having us on board.